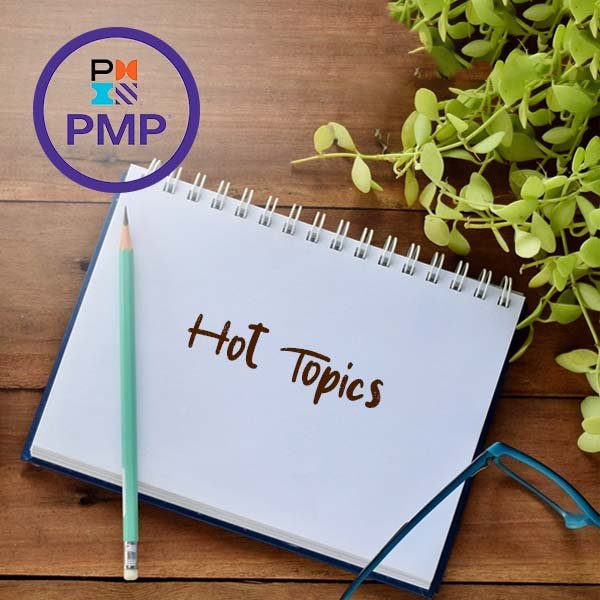 The Project Management Professional (PMP)® is the world's leading project management certification. Now including predictive, agile and hybrid approaches, the PMP® proves project leadership experience and expertise in any way of working. It supercharges careers for project leaders across industries and helps organizations find the people they need to work smarter and perform better. I am listing below the PMP exam hot topics where most of the exam questions come from:
Dealing with changes. The change control board reviews specific change requests, and it depends on the project manager authority, but for changes which doesn't affect the project management plan, performance baselines, project charter, contracts or statement of work, the organization change management policy might allow the project manager to decide. As a project manager, What's the exact procedure to follow when dealing with changes?
Be proactive through working on preventing the root causes of the change, I saw a lot of project managers who just focus on managing project changes missing the bigger picture of preventing unnecessary ones.
Look for changes early and identify the need of them. Changes usually come from measuring actual work and comparing it to performance baselines, changes can come from different stakeholders, sponsor, customer, project team or even the project manager, a proactive project manager shall keep looking for changes as discovering them early will reduce their impact.
Evaluate the impact of the change, the impact of the change should be evaluated first within its knowledge area. If it's a quality change or cost change, then it should be assessed on all aspects of the project.
Document a formal change request, the process of making the change should follow the change management plan of your project, the step you need to do now is to create and document a formal change request.
Go through the Integrated Change Control process:

Assess the change, while you are assessing the change, note that any change that already had a reserve created for it would be accounted for in the project management plan as part of risk management efforts, and should be handed as part of direct and manage project work rather than integrated change control.
Look for options, the options you will look for includes increase the opportunities and decrease threats, compress the schedule through crashing or fast tracking, change how the work will be performed, adjust quality or cut scope so that the effect of the change will be minimized.
The change is approved or rejected, sometimes the project manager might be able to approve many changes in accordance to the authority level he have, but those that affect the project management plan, performance baselines, project charter…etc would likely need to go to the change control board, approved changes will be implemented in the direct and manage project work.

Update the status of the change in the change log, this will help the project team and all relevant stakeholders to know the status of the change, even if the change was not approved the reasons of why it was rejected shall be documented.
Adjust the project management plan, project documents, and performance baselines as necessary, this means that re-planning need to be done to incorporate the impact impacts of the approved changes into the new version of the documents and plan before the team start executing the change.
Manage stakeholders' expectations by communicating the change to stakeholders affected by the change.
Manage the project to the revised project management plan and project documents.
Risk Response Strategies. Project managers should work to eliminate the threats before they occur. Similarly, the project managers should work to ensure that opportunities occur. Likewise, the project manager is also responsible to decrease the probability and impact of threats and increase the probability and impact of opportunities. For the threats that cannot be mitigated, the project manager needs to have a contingency plan and also a response plan if contingencies do not work. It is not required to eliminate all the risks of the project due to resource and time constraints. A project manager should review risk throughout the project. Planning for risks is iterative. Qualitative risk, quantitative risk, and risk response planning do not end ones you begin work on the project. Generally, risk response plans are required for risks that are high in both probability and impact. For example, a nuclear power repair project might have response plans developed for radiation exposure events. Risk response strategies for threats include: Avoid, mitigate, transfer, accept, and escalate. For opportunities, it includes: Exploit, enhance, share, accept, and escalate.
Release and iteration planning. Release Management is the part of the software management process that deals with development, testing, deployment and support of software releases to the end user. In the new era of continuous delivery (CD), organizations have become increasingly lean and agile while managing this process. Release management is always managing, planning, scheduling, and controlling software delivery throughout the release lifecycle. Iterative Development is a way of breaking down the software development of a large application into smaller chunks. In iterative development, feature code is designed, developed and tested in repeated cycles.
Agile Principles. There are 12 agile principles outlined in The Agile Manifesto in addition to the 4 agile values. These 12 principles for agile software development help establish the tenets of the agile mindset. They are not a set of rules for practicing agile, but a handful of principles to help instill agile thinking. In the PMP exam, there will be 6-8 questions testing your understanding of these principles and values, and their application in real life scenarios.
Activity Cost/Duration estimation techniques. When it comes to activity cost and duration estimates, it is important to know what estimation techniques you have to use, and when to use each of those techniques, techniques such as analogues estimating, parametric estimating, three point estimating should be used, while using those techniques the project manager shall provide the estimators with enough information to properly estimate each activity, prevent padding (adding extra) and complete sanity check of the estimates performed, several estimating techniques which can be used on projects might include the following:
One point estimating. The estimator submits one estimate per activity, the time/cost estimate usually will be based on expert judgement or historical information of similar projects and activities, sometimes it might be a guess, this method usually have some negative effects such as including pads into the estimates and might result with a schedule or budget which nobody believes in, still, the one point estimating is not the best method to use, it provides an easier way to find the critical path and draw a simple network diagram of your project, using one point estimate allows for quick calculations on the exam!
Analogous estimating. This method uses expert judgment and historical information to predict the future, usually it's done on the project level. It's best used while creating the project charter to create an overall project estimate which will be submitted to the senior management or project sponsor, in some cases it can be applied on the activity level if the activity has been done on previous similar projects, the level of accuracy of such estimates will depends on how closely the project or activity matches the past history.
Parametric estimating. It looks at the relationship between variables on an activity to calculate time and cost estimates, the data usually comes from historical records, industry requirements, standard metrics or any other possible resources. In the construction field the parametric estimating is a common practice, like having a time per installation or cost per meter square.
Three Point estimating. With the three-point technique, estimators give an Optimistic (O), Pessimistic (P), and most likely (M) estimate for each activity. Three-point estimating allows more consideration of the uncertainty of estimating and the risks associated with the activities. It can be used to calculate a risk-based expected duration estimate by taking either a simple average or a weighted average of the three estimates.
Risk in Contracts. A typical question in the PMP exam would present a procurement scenario, the scenario would provide some details about the contract the project manager is using, and the question would then ask who has more risk in the described scenario – the buyer or the Seller. You will have to first understand which type of contract is being described in the situation and then answer the question accordingly. PMBOK® guide talks about three basic types of contracts. The Three basic types of contracts are further divided into few sub-types. In this article am going to list all what you need to know about the contract types for the PMP/PMI-RMP exam. Below am listing the contracts in a way you can easily understand who carries more risk in each type of contract, the buyer or the seller. The risk on the buyer will be the maximum at a Cost-Plus Percentage of Costs (CPPC) contract, the seller will carry the maximum risk in a fixed price contract. Buyers' cost risk from the various contract types (from highest to lowest): Cost plus percentage of cost –> Cost plus fixed fee –>Cost plus award fee –> Cost plus incentive fee –>Time & material –>Fixed price economical price adjusted —> Fixed price incentive fee –> Firm fixed price.
Scrum Framework. Scrum is a framework that helps teams work together. Much like a rugby team (where it gets its name) training for the big game, scrum encourages teams to learn through experiences, self-organize while working on a problem, and reflect on their wins and losses to continuously improve. For the exam, you should be aware of the Scrum roles, events, and artifacts. Expect 4-6 questions about these topics.
Organization Structure. Projects are impacted by, and have an impact on the cultural norms, management policies, and procedures for the organizations of which they are apart. One of the main forms of influence is how the company is organized, as the organizational structure will dictate who the project manager goes to for help with resources, how communications must be handled, and other aspects of the project management. Organization structures are: Functional, matrix, composite, and projectized. Functional organizations are grouped by areas of specialization within different functional areas; here projects generally occur within one department, employees transmit the request to the head of department who communicate the request to other department head, project manager here is working mainly as coordinator and have very limited authority. In weak matrix organizations, team members report to 2 bosses, project manager and functional manager, communications goes from team members to both bosses, in weak matrix power rests with functional manager and project manager acts like coordinator or expeditor. In a balanced matrix organization, team members reports to 2 bosses, project manager and functional manager, communications goes from team members to both bosses, in balanced matrix power is shared between functional manager and project manager. In a strong matrix organization, team members report to 2 bosses, project manager and functional manager, communications goes from team members to both bosses. Project manager's authority is moderate to high. In a projectized organization, team members report to 2 bosses, project manager and functional manager, communications goes from team members to both bosses. Project manager's authority is moderate to high.
Information radiators. "Information radiator" is the generic term for any of a number of handwritten, drawn, printed or electronic displays which a team places in a highly visible location, so that all team members as well as passers-by can see the latest information at a glance: count of automated tests, velocity, incident reports, continuous integration status, and so on. Expect 2-3 questions in the PMP exam about these tools.
Risk Register and Risk Report Updates. The risk register captures details of identified individual project risks. The results of Perform Qualitative Risk Analysis, Plan Risk Responses, Implement Risk Responses, and Monitor Risks are recorded in the risk register as those processes are conducted throughout the project. The risk register may contain limited or extensive risk information depending on project variables such as size and complexity. The risk report presents information on sources of overall project risk, together with summary information on identified individual project risks. The risk report is developed progressively throughout the Project Risk Management process. The results of Perform Qualitative Risk Analysis, Perform Quantitative Risk Analysis, Plan Risk Responses, Implement Risk Responses, and Monitor Risks are also included in the risk report as those processes are completed. For the PMI-RMP exam context, it's important to be aware of the risk register and risk report updates after implementing each risk management process.
Agile tools and techniques. Agile methods and tools lend themselves most appropriately to systems and projects in which accurate estimates, stable plans, and predictions are often difficult to attain in the early project stages. Agile development favors an adaptive, iterative and evolutionary development approach. For the exam, you will encounter not less than 10-12 questions about the commonly used agile tools and techniques. You will have at least one question about each of the following techniques: MoSCoW, 5-Whys, control charts, agile chartering, Cycle time, WIP, Variance and trend analysis, and risk adjusted backlog.
Project, program, and portfolio. Managing a project can be done through three separate scenarios: as a standalone project, within a program, or within a portfolio. A project is a temporary endeavor with a beginning and end, it creates a unique product, service, or result. Project management is the application of knowledge, skills, tools and techniques to project activities to meet the project requirements. It's accomplished through the appropriate application and integration of the project management processes identified for the project. Effective project management will enable organizations to tie project results to business goals, compete more effectively in their markets, and sustain the organization. A program is a group of related projects, subsidiary programs and program activities managed in a coordinated manner to obtain benefits not available of managing them individually, and this should be only done when the program approach adds value, by grouping related projects into a program, an organization can coordinate the management of those projects. Program Management is defined as the application of knowledge, skills, and principles to a program to achieve the program objectives and to obtain benefits and control not available by managing program components individually. It focuses on the interdependencies between projects and between projects and the program level to determine the optimal approach for managing them. A portfolio is a group of programs, individual projects, and other related operational work that are prioritized and implemented to achieve a strategic business goal, this approach will help optimizes the use of resources, enhances the benefits to the organization and reduces risk. Projects and programs that make up a portfolio may not be related, other than the fact that they are helping to achieve a common strategic goal. Portfolio management is defined as the centralized management of one or more portfolios to achieve strategic objectives.
Advanced tools and techniques in risk management, as per the practice standard for risk management, there are additional tools and techniques used for risk management, like the cause-and-effect diagrams, affinity diagrams, pre-mortem, analytical hierarchy process, and failure mode effect analysis. Expect not less than 5 exam questions about the advanced risk management tools and techniques, specifically from the risk identification process.
Self-organizing team concept. At the simplest level, a self-organizing team is one that does not depend on or wait for a manager to assign work. Instead, these teams find their own work and manage the associated responsibilities and timelines. Of course, there's more to self-organizing teams than simply finding and completing work. Self-organizing teams also take on the responsibility of choosing the most effective and efficient way to complete their work and regularly look for ways to improve through experimentation. Expect few scenario-based questions in the exam that their answer will rely on this concept.
Earned Value Management. Earned Value Management, earned value is used in performance reviews to measure project performance against the scope, schedule and cost baselines. Earned value analysis (EVA) is an analysis technique that compares the actual schedule and cost to the performance measurement baseline. Earned value integrates cost, schedule and scope (work done). Can be used to forecast future performance and project completion dates and costs. EVM compares what you've received or produced to what you've spent. The EVM continuously monitors the planned value, earned value, and actual costs expended to produce the work of the project. To perform the EVM calculations, you need to first gather the three measurements mentioned earlier: the planned value (PV), actual cost (AC), and earned value (EV). Expect 3-5 questions in the exam about this performance review technique.
Contingency reserves are money added to the project cost estimates by the project manager for uncertain events / risks that might happen (also known as "known unknowns"). A reserve is an amount of time and/or cost added to the project to account for risks. There are two types of reserves: Contingency reserves are money added to the project cost estimates by the project manager for uncertain events / risks that might happen (also known as "known unknowns"). Contingency reserves are the finance for the project cost estimates by the project manager to deal with uncertain events/risks that may happen i.e known unknowns. The contingency reserve is assigned for activities, work package, or a project. For the PMP exam, you need to understand the difference between contingency and management reserves, and you need to understand how to determine the required reserves for a project.
Burn down charts. A burndown chart is a graphic representation of how quickly the team is working through a customer's user stories, an agile tool that is used to capture a description of a feature from an end-user perspective. The burndown chart shows the total effort against the amount of work for each iteration. The quantity of work remaining is shown on a vertical axis, while the time that has passed since beginning the project is placed horizontally on the chart, which shows the past and the future. The burndown chart is displayed so everyone on the team can see it and is updated regularly to keep it accurate.
Velocity. Velocity in agile is an important metric that helps the team improve efficiency by determining how much it can achieve over time. After every iteration, the team adds up effort estimates associated with user stories that were completed. In project management, this helps in determining how long it will take to complete the project. In essence, velocity in agile offers agile teams a way of calculating how fast they're getting work done, and as a result, how many sprints will be required to get a project to a certain degree, and overall, create significant change. Expect 2-3 math questions in the exam about this concept.
User story and story points. A story point is a metric used in agile project management and development to estimate the difficulty of implementing a given user story, which is an abstract measure of effort required to implement it. In simple terms, a story point is a number that tells the team about the difficulty level of the story. Difficulty could be related to complexities, risks, and efforts involved. Story point estimation, a kind of relative estimation, is typically performed at the Product Backlog Grooming Sessions and the Product Backlog is evaluated by the team who responsible for the actual development and testing work.
In order to assess your readiness for the PMP exam, I advise you to go through some high quality PMP exam simulators which I am reviewing in my article here.
Good Luck in your Journey!